Swirls, Swails or Cowlicks
The Stories They Sometimes Tell

We have been actively documenting swirls (swails or cowlicks to some folks) for the last couple of years. Prior to that it was something we made note of on our intake forms as an aside. However, since beginning to pay more attention to the horse's responses, their stories, we find they tell us some pretty interesting ones.

Some swirls are documented as part of a breeds Registration process, but others not.
We believe swirls are formed when in the dermal and epidermal layers of the skin and the fascial layer just beneath the skin are disturbed in some way. When that disturbance takes place, the layers of skin and fascia shift in such a way as to take the follicle(s) of the hair shaft(s) and move them around in such a way that creates a swirl where there previously was none.

These swirls can develop in the womb or during the birth process, some are from increases in the training level of a horse, some from unseen changes to the muscle tissue beneath the skin, some from general stress, from muscle overuse or excessive use, or some unknown trauma or issue, past or present, that leaves a swirl in its wake.

One particular horse we have been working on for several years developed a swirl pattern along her neck as the level of training and work increased, requiring her to do more in her Dressage training regimen. It started with bilateral swirls at the poll, most horses have them there. These were there when we first started Bodywork on the horse in about 2006 About one and a half years later, she developed another set of bilateral swirls about seven inches further down her neck toward the wither at about the point of Jack Meagher's stress point number one, the Rhomboid attachment. About three years after that another set of elongated swirls appeared along the Brachiocephalic muscle just below SP 1 and about three inches cranially. The final neck swirl appeared in early 2012, located in the center of the neck, about seven inches cranially from the Scapula, and this time only on the right side. With the development of each new swirl, we were able to detect areas of noticeable tension and with some, noticeable pain. The owner admitted entering a higher level of work / training with the mare as each new swirl pattern developed. We attribute these Swirls to those increases.

Conformationally, she is not what you would call the "classic" looking model of a dressage horse. She has good size, but her owner and trainers all agree that her neck is too short to facilitate assuming the classic frame looked for by judges. Her heart, however, says otherwise and she tries, successfully, to achieve some things that under other circumstances, she may never have been able to.

This brings us to 2013, when it was decided to start a more comprehensive documentation of the swirls we encountered and what they lead us to.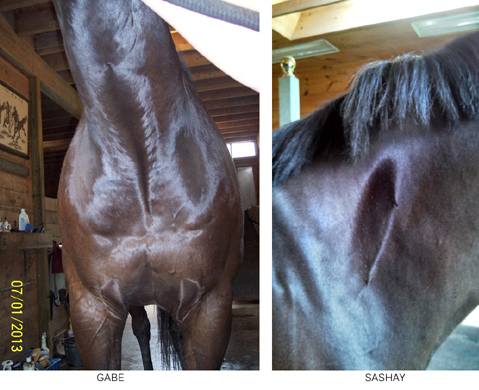 Gabe---

The first we're sharing is that of an eleven year old TB gelding and former race horse named Gabe. One of this horse's issues was that he would consistently, about every two weeks, tear his right front shoe off.

During our initial evaluation, nothing extraordinary jumped out at us. He did have one swirl on the L side of his neck in the Mastoid, at the C-3 location, which we treated. The Swirl that really pointed to something was the one coming down the center of his neck, starting at the C-5 / 6 junctions, and traveling down to just above the Anterior Pectoral muscle. At the lowest point of the swirl, for the last inch or so, it made an approximate 45 degree turn to the horse's left (right as viewed from the front of the horse), pointing to a noticeably larger, more developed Transverse Pectoral Muscle.

This told us that the right side muscles in that region needed to be developed and brought up to the same condition and strength as the left side. This is what we zeroed in on and, during the next visit three weeks later there was a noticeable improvement in the development and tone of the R transverse Pectoral, and balance between the L and R muscles.

At this point, he had not torn his RF shoe off and after a total of six weeks, still hasn't.

Reference photograph: Gabe 1.

Sashay---

The second is that of a seven year old Canadian Sport Horse mare named Sashay. She would on occasion, pull her right front shoe off. She also had recently recovered from a left front coffin bone fracture.

During the initial evaluation, it was noted that at the walk, her hind legs tracked true, but at the trot, her right hind tracked approximately three to four inches medially. This, we attributed to compensation from the left front coffin bone issue. (Diagonal Compensation).

During the Bodywork session, there was an unusual swirl at the base of her neck, on the right side only. As you can see from the photo, it is shaped like and upside down tear drop. Upon further palpation and exploration, we found a fairly large spasm at the forward edge of the scapula at a point where the teardrop swail ended. It was pointing to
the issue in question, which was at the junction of the Deep Anterior Pectoral, and Supraspinatus muscles.

After working on the muscle issues, we performed stretches, slightly beyond the normal ROM as well as some Masterson type release techniques to the withers, and massaged all the locomotion muscles associated with moving the leg forward and backward.

It has been seven weeks since initially working on Sashay with one session two weeks ago. So far, she is keeping her shoe on, and at the trot, her leg track is now straight.

Reference photograph: Sashay

We're not saying that every swirl will lead a practitioner to a definable issue, but swirls should be looked at and considered as a myofascial change, and treated as such.

Copywrite 2013
All rights reserved

Doris and Ron Bouchard
Equine Bodyworkers
Equissage NE / NY

Reprint with permission only